Efficient. Reliable. Affordable.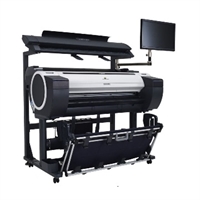 imagePROGRAF iPF785 MFP M40
The Canon imagePROGRAF iPF785 MFP M40 is a large format imaging system that is designed to be a complete Scan-to-Print, File, and Share solution. The system includes an imagePROGRAF iPF785 large format printer, M40 large format scanner, MFP stand, computer, SmartWorks MFP software and a large touch-screen monitor.

The iPF785 MFP M40 provides a fast and effective system for printing, copying, archiving and distributing maps, drawings, renderings, site and facilities management plans, design and layout proofs, posters and more. This Multi-Function Product's advanced M40 scanner adds versatility to the product capabilities with the ability to scan documents up to 2mm thick, allowing users to scan more than just technical documents. The scanner has the ability to scan documents up to 315" in length as a PDF or JPEG file, and up to 590" in length as a TIFF file.
Max Print Speed: 688 sq. ft. per hr.
Printer Type: 5-Color 36-inch Printer
Number of Nozzles: 15,360 Total
Nozzle Pitch: 1,200 dpi
Print Resolution (Up to): 2,400 x 1,200 dpi (Max)
Brand :
Canon
Category :
Wide Format Printers