Efficient. Reliable. Affordable.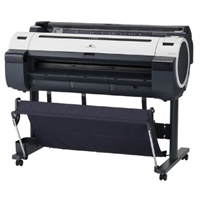 imagePROGRAF iPF755
Built for architects, engineers, GIS professionals, and other high-end technical documents users, the 36" imagePROGRAF iPF755 large format printer is a powerful print solution designed to meet the demands of medium to large workgroups.
With incredible line accuracy, an 160GB hard drive, and on-board support for HP-GL/2 and HP-RTL files, the iPF755 is an ideal solution for any professional with a need for printing complex full-color renderings, CAD drawings, GIS maps and other large-format graphics quickly, effortlessly, and with remarkable detail.
A totally revamped, environmentally-conscious design with fully front-accessible operations allows for outstanding ease-of-use and flush wall installation in any environment.
High-Speed Printing: L-COA processor
Space-saving, Environmentally-conscious Design
Productivity: Print Longer without Interruption
Precision Printing: High-Density PF-04 Print Head
160GB Hard Drive
Brand :
Canon
Category :
Wide Format Printers