Efficient. Reliable. Affordable.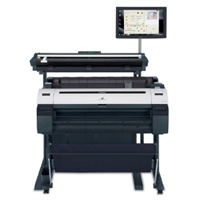 imagePROGRAF iPF755 MFP
Built for architects, engineers, GIS professionals, and other high-end technical documents users, the 36" imagePROGRAF iPF755 MFP is a powerful imaging solution designed to meet the demands of medium to large workgroups.
With incredible line definition and accuracy, high-speed-throughput, and a large, simple-to-use touch-screen interface, the iPF755 MFP is an ideal solution for any professional with a need for scanning, copying and distributing CAD drawings, GIS maps and other large-format graphics quickly, effortlessly, and with remarkable detail.
With true 600dpi optical resolution, CIS scanning technology for incredible line definition and accuracy, and room for documents up to 41" wide (40" image width), the iPF755 MFP is a versatile imaging solution.
Complete Scan-to-Copy / File / E-mail Solution
High Speed Scanning
High Precision Scanning
Media Handling
SmartWorks MFP Software
Brand :
Canon
Category :
Wide Format Printers