Efficient. Reliable. Affordable.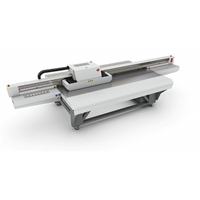 ARIZONA 1260 XT
Designed with print quality, application versatility and ease-of-use in mind, the Arizona 1200 series printers introduce some significant new features including optional support for six color VariaDot printing for photographic and fine art applications, pneumatic pin registration system for easy rigid media loading, an optional automated maintenance system for hands-free printhead maintenance and a new third-generation UV curing system compatible with even the thinnest of flexible media.
With 6 ink channels, upgradeable

Print speed: up to 377 ft.2/hr

Rigid media size: 98.4" x 121.3"

Rigid media thickness: 2"
Brand :
Canon
Category :
Wide Format Printers